VHF / UHF FM Repeater IC-RF3100 / IC-FR4100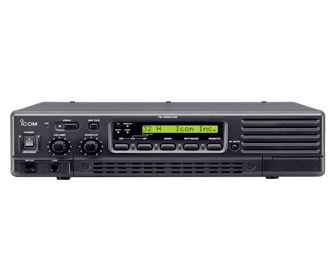 ADVANCED POWERFUL REPEATERS

Icom's repeaters have been designed as advanced heavy duty performers to support all types of commercial radio applications. A host of standard features and guaranteed Icom performance means you'll need to look no further to satisfy your communication needs.

25 Watt full duty cycle operation

Employing a high performance power amplifier and effective cooling system, the IC-FR3100/FR4100 provides a stable 25W at full duty cycle operation.

Automatic battery backup system

A built-in backup system supports automatic switching to an external power supply (13.2V DC) if the AC power supply fails.

CTCSS, DTCS, 2-Tone, 5-Tone, DTMF encoder/decoder

Multiple signaling systems are equipped as standard. These systems are fully compatible with Icom F-series radios.

Internal space for duplexer and isolator

The repeater has an internal space to install a duplexer and isolator*. The controls of the duplexer are accessible from the front of the repeater without disassembly. Faster and easier maintenance and adjustment is possible.

*Ask your dealer for details about available duplexers and isolators.
Other features

Telephone interconnect capability

DTMF remote control capability

Optional wall mount bracket, MB-77 and 19 inch rack mount bracket, MB-78

Accessory connector (D-sub 25-pin) on the rear panel for trunking controller

Compatible with VEGA tone remote control system

Optional Voice Scrambler UT-109 or UT-110

CW ID transmitter (DTMF or 5-Tone also selectable)

Password and kill/stun function for security

16-digit alphanumeric display

Self check function checks for internal errors and alerts with a phone call

Master/Slave backup operation by connecting two repeaters
HAND MICROPHONES



DESKTOP MICROPHONE


MOUNTING BRACKETS



MB-78

19" RACK MOUNT BRACKET

INTERNAL UNITS



General




IC-FR3100

IC-FR4100

Frequency coverage
(Varies according to version)

150–174 MHz

400–430 MHz
450–480 MHz

Number of channels

32 ch

Channel spacing
(Varies according to version)

12.5/25 or 12.5/20 kHz

Type of emission

16K0F3E, 14K0F3E, 8K50F3E

Power supply

220–240V AC (50/60Hz) or 13.2V DC

Current drain

Tx High

10A

12A

Rx

Stand-by

1A (typ.)

Max. audio

2A (typ.)

Dimensions
(projections not included; W×H×D)

410×110×360 mm

Weight (approx.)

12kg



Transmitter

| | | | | | | | |
| --- | --- | --- | --- | --- | --- | --- | --- |
| RF output power (High) | 25W | Spurious emissions | 0.25μW/–36dBm (≤1GHz) | Frequency stability | ±1.0kHz | Audio harmonic distortion | - |


Receiver




IC-FR3100

IC-FR4100

Sensitivity
at 20dB SINAD (emf)

±0dBμV (typ.)

Adjacent channel
selectivity (W/M/N)

70/70/60dB

Spurious response rejection

70dB

Intermodulation rejection

70dB

AF output power
(at 10% distortion with a 4Ω load)

2.5W (typ.) with a 4Ω load

FUNCTION COMPARISON AND INTERNAL UNIT OPTIONS




IC-FR3100 IC-FR4100

Number of option slots

1

CTCSS/ DTCS

encoder

Available

decoder

Available

2-Tone

encoder

Available

decoder

Available

5-Tone

encoder

Available

decoder

Available

DTMF autodial

Available

DTMF decoder

Available

Voice Scrambler

Inversion

-

Non-rolling

UT-109R (Version 01)

Rolling

UT-110R (Version 01)

BIIS 1200

-

MPT 1327

Available

SmarTrunk II/3G

Available

LTR™ trunking

Available*

* External controller required.
ADDITIONAL SPECIFICATIONS AND FEATURES
Icom makes rugged products that have been tested to and passed the following MIL-STD requirements and strict environmental standards.

Standard


MIL-810 F
Method, Proc.

High Temperature Storage


501.4 I


High Temperature Operation


501.4 II


Low Temperature Storage


502.4-3 I


Low Temperature Operation


502.4-3 II


Vibration


514.5 I


Shock Functional


516.5 I

Also meets equivalent MIL-STD-810 -C, -D and -E.


All stated specifications are subject to change without notice or obligation.