ROIP GATEWAY VE-PG2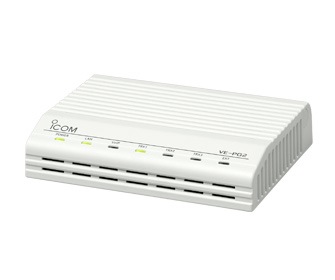 Simple, Affordable Radio over IP Gateway

The VE-PG2 is a "Radio over IP Gateway" which connects an analog radio (repeater or transceiver) with another radio over an IP network. By interconnecting two or more radios over an IP network, your communication range can be expanded.
Bridge mode for point-to-point radio connection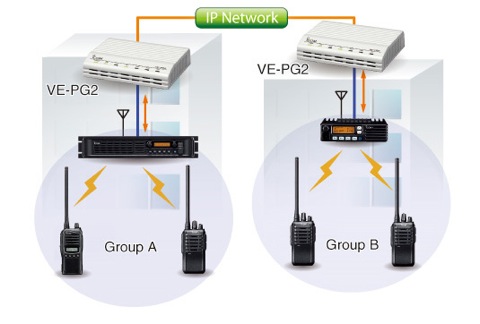 This mode simply bridges two VE-PG2's over an IP network. As shown in the figure above, the Group A radio users and the Group B radio users can talk to each other.

When the IP network system is compatible with IP multicast technology, three or more VE-PG2s can be connected in the bridge mode and the IP packet data can be multi-casted in the system.
Selective call mode using a DTMF code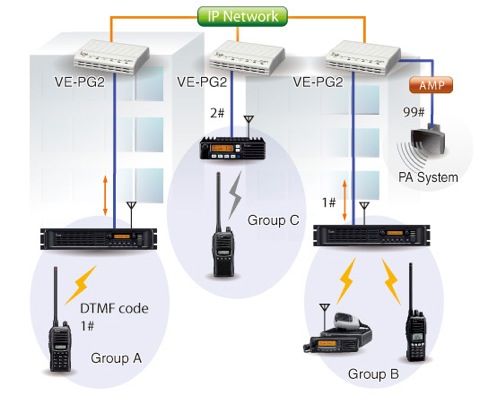 In this mode, two or more radios and PA systems can be connected to the IP network. Program the VE-PG2s to assign a unique DTMF code to each network connected radio and PA system.

As shown in the figure above, the Group A radio user sends the DTMF code (1#) to set up a call and the Group A and B radio users can talk to each other.

Up to 500 DTMF codes can be programmed.
Other features

Up to three radios can be connected to one VE-PG2

Optional connection cables allow you to connect a transceiver or repeater easily

Audio input/output and relay switch for public address, headset or external device connection

Web-based configuration screen

SNMP, SYSLOG, network monitoring function and call logging

DNS client

Automatically checks firmware update(Internet connection required)

DTMF/5-Tone/MDC1200/BIIS1200 can be passed the IP network*
*Analog signalling and data transmission may not work under certain conditions. Adjustments or changes in radio settings are typically required.

Supplied accessories

Rear panel view


Mode switch for firmware update

DC input (AC adapter supplied)

Ground terminal

10BASE-T/100BASE-TX Ethernet LAN port

Radio connection ports

Audio input/output ports

External equipment control ports

Initialization button (on the bottom panel)
CONNECTION CABLE


OPC-2073

5m (16.4ft)
connection cable for a mobile transceiver.


OPC-2074

5m (16.4ft)
connection cable for a repeater.

GENERAL

Power supply requirement


12V DC ±10%, MAX. 500mA (12V AC adapter supplied.)


Operating temperature range


0°C to +40°C; 32°F to 104°F


Dimensions (WxHxD)
(Projections are not included)


190x40x141 mm


Weight


540g; 1.19lb (approx.)

All stated specifications are subject to change without notice or obligation.