HF TRANSCEIVER IC-M801GMDSS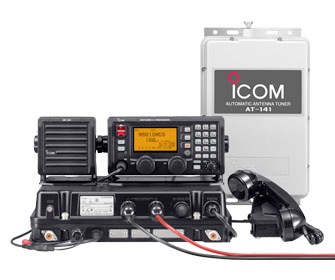 All-in-one set for MF/HF SSB radio telephone and Class A/E DSC operation
Built-in DSC, Class A

The IC-M801GMDSS has Class A DSC operation and meets GMDSS requirements and MED 96/98/EC, "wheel mark" requirements for solas regulated vessels.

4×8 inch remote controller

The IC-M801GMDSS offers an industry standard 4-inch tall remote controller. When set up with the IC-M603 or M505 VHF radio, Icom offers you a complete MF/HF/VHF communications station.

Large LCD with full dot-matrix characters

The M801GMDSS has the capability of up to 24 characters × 9 lines full dot-matrix display. You can easily read the alphanumeric channel name, DSC coordination, time, position, etc.

Digital signal processing

The DSP controlled digital IF filter provides flexible filter settings for narrow band signals like SITOR and FSK without having to install an optional narrow filter.

24V power supply available

The IC-M801GMDSS has built-in DC-DC power converter, which provides 13.6V DC either from 24V DC, depending on version.

Automatic antenna tuner, AT-141

An optional automatic tuner, AT-141, easily connects to the IC-M801GMDSS. When the tuner cannot tune the antenna, the ICM801E bypasses the tuner and displays an alert on the display.

125W (PEP) of output power

A stable 125W of output power provides reliable long distance communication. The RF unit is enclosed in a rugged metal case and the large cooling fan ensures stable internal temperature even during high duty operation.

Other features

0.5–29.999MHz continuous receiver coverage

D-SUB connector for NBDP terminal

GPS connector

IEC61162-1 connector for PC remote control

Printer connector
ANTENNA TUNER


SHIELDED CONTROL CABLE


| | | | |
| --- | --- | --- | --- |
| OPC-1465 | | | |
HANDSET


HAND MICROPHONE


EXTERNAL SPEAKER


REMOTE CONTROLLER


SEPARATION CABLE


SPEAKER EXTENSION CABLE


FLUSH MOUNT KIT


MOUNTING BRACKET





IC-M801GMDSS

Frequency range

Tx


1.6-2.9999 MHz
4.0-4.9999 MHz
6.0-6.9999 MHz
8.0-8.9999 MHz
12.0-13.9999 MHz
16.0-17.9999 MHz
18.0-19.9999 MHz
22.0-22.9999 MHz
25.0-27.5000 MHz


Rx


0.5-29.9999 MHz


Power supply requirements
(Floating ground, Depending on version)


21.6–31.2V (24V) DC


Dimensions (W×H×D)
(Projections not included)


Main unit:
367×95×260 mm

Controller unit:
220×110×84.4 mm

Speaker:
110×110×84.4 mm


Weight (approx.)


Main unit:
8.5kg

Controller unit:
570g

Speaker:
370g


Current drain


Transmit (High)


30A (24V)


Max. audio output


3A (24V)


Sensitivity
(at 20dB SINAD;
1.8-29.999MHz)


J3E, A1A, J2B, F1B


8dBμV emf


H3E (1.8–3.999MHz)


24dBμV emf


Spurious response


70dB (0.5–29.999MHz)
50dB (DSC, exept 1st IF image)


Audio output power (10% dist/ 4Ω load)


4.0W typ.


RF output power (PEP) (With AT-141)


85W (1.6-3.999MHz)
125W (4.0-27.500MHz)

Measurements made in accordance with EN300 373-1 and EN300 338 for IC-M801GMDSS.


All stated specifications are subject to change without notice or obligation.